Montrachet "Marquis de Laguiche" 1989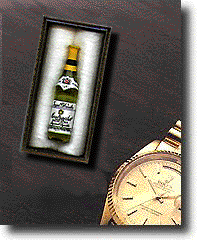 Since 1880, Domaine Joseph Drouhin has been deeply rooted in Burgundy, although the cellars of the estate (the region's oldest) were built between the 13th and the 16th centuries, and are officially listed as historic treasures. From Joseph Drouhin, the firm's founder, to Robert J. Drouhin today, three generations (and a fourth now in training) have established a reputation for never being satisfied with a wine that is only perfect: through faithful adherence to traditional methods, Drouhin strives to reveal the character of the wine's origin and of the particular vintage.



Today, Dom. Drouhin holdings total 158 acres (64 hectares) of Grands Crus and Premiers Crus. In centuries-old manner, the vineyards are planted densely and pruned rigorously to limit quantity and enhance quality. Grafts are taken from selected vines more than fifty years old. Little fertilizer is used, frequent ploughing supplants herbicides, and leaves are pulled by hand from around clusters to increase exposure to sunlight. At harvest, all of the grapes are picked by hand. The majority of the harvest is vinified in a modern winery at Chavet, adjacent to Beaune. Here timeless wine making practices are married with contemporary oenological methods to bring out the wines' innate character while ensuring its health.
As much as possible, indigenous natural yeasts are used instead of commercial varieties. The wines are pressed gently and allowed to be moved as much as possible by gravity. They are aged temperately in oak barrels and clarified with egg whites before bottling. The result of this care are wines that grow and change in their appeal over the years, creating a succession of stirring and memorable surprises.
Dom. Drouhin 1995

1995 Wine Spectator: Ultimate Guide to buying wine:
"This is a gem to age into the next century; a collector's wine. Like a slowly burning fuse to a stick of dynamite, with an explosion of fruit at the finish. Has understated cream, apple, and earth aromas, a lovely balance of supremely intense lemon, cream, and earth flavors, wonderful acidity, and a lingering finish. Full bodied." ('98 rating)

Parker's wine buyers guide:
"The famous Montrachet from the Marquis de Laguiche is delicious. The huge, smoky, tropical fruit-scented nose is followed by a wine that offers up gobs of honeyed, apple-, butter-, and orange-like flavors, good lemony acidity, and a rich, creamy, well-evolved finish. Drink this beauty over the next decade."
Mr. Parker's comments have been excerpted from his 3rd Edition Wine Buyers Guide, and shall not be construed as an endorsement of Klein's Designs or any of its products. Mr. Parker has not given his permission to Klein's Designs for the use of his writings.
S.K.

Copyright Klein's Design all rights reserved
Web Design by Lars Mikkelsen
Last revised 8/4/96