Danish Woodworks
Turned Bowls by Lars Mikkelsen

These are all finely turned bowls with exceptionaly thin walls. I use a wide variety of woods, from the most exotic to local fruit woods.

All have a turned foot. You would find these only on the finest full size turnings, and it is almost unheard of in miniatures. Because it requires remounting the finished bowl up side down, making a foot is not easy to do without crushing the thin edge.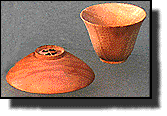 Check out some more of my miniature turnings
Lars Mikkelsen is an IGMA artisan






Web Master Lars Mikkelsen
Last updated 10/28/99