Sharon Granicy Miniatures
Miniature accessories

Please enjoy this wonderful selection of 1" hand crafted miniatures spanning a wide range of styles to meet everyones needs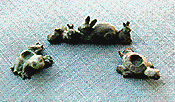 Add an outdoor statuary.
I offer a mother bunny and her babies to enhance your miniature garden.
I age the metal to make it look like aged copper.

Mother bunny and babies $4.75
Frog and turtle planters $3.75 each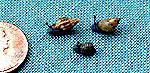 Every miniature garden needs a snail or two.
These snails come in a variety of small shells.

Tiny snails $4.50 each


If you like grapes, I have a bush for you.
I hand punch the grape leaf shape on silk. Then assemble the grape bush.
I make the grapes and add them last.

Grape bush $10.50 each.


My miniature bird house is made of 100% natural materials.
My husband Pat and I use birch branches and sycamore bark to make the bird house.
They are ready to hang in a tree or on the porch.

Bird house $5.75 each


This is a freestanding birdhouse otherwise it is the same as above

Free standing bird house for $7.50 each.


Getting ready for Christmas!
Here is a small sleigh decorated with greenery and candy canes.
Great for a centerpiece on a table.

Sleigh $5.25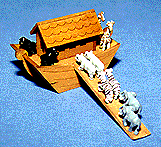 I just started making this Noha's Ark.
I hand paint all the animals, cut open the ark and install the ramp.
Then I paint the ark and put the animals in.
Oh ya the animals are all fed.

Noahs Ark $28.00

Punched flower petals and leaves.
My catalog on punched material includes samples of all the different petals and leaves you will need to make your own plants.
The petals and leaves are sold by the bag for $1.75 each, when you buy 7 or more the price is $1.00 per bag, but you need the catalog first.
Catalog $2.00
Go to secure e-mail order form
Go to printable order form






Web Master Lars Mikkelsen
Last updated 10/28/99